Scientific meetings
Review by faculties / academies
Announcements of scientific conferences
Documents and forms
The University of East Sarajevo and its members organize scientific, artistic and professional meetings aimed at exchanging knowledge and experiences and promoting scientific and artistic activities. Scientific meetings held in Republic of Srpska are categorized by the Ministry of Scientific and Technological Development, Higher Education and the Information Society of Republic of Srpska. Categorization is performed in accordance with the Rulebook on Criteria for Realization and Financing of the Scientific Meetings Programs (Official Gazette of Republic of Srpska, No. 102/14) which determines the categorization, criteria and ways of realization and co-financing of scientific conference programs. Scientific meetings are categorized into three categories (the first, second and third), and categorization is carried out up to twice a year. Continuous education organized for health workers is also subject to accreditation of the Ministry of Health and Social Welfare of Republic of Srpska.
Review of scientific conferences organized by faculties and academies of the University of East Sarajevo according to the last categorization (october 2021):
Scientific meetings of the first category

AGROSYM
Classification: international scientific meeting od posebnog značaja
Organizer: Faculty of Agriculture
Frequency: once a year
Language: english
Publication: Abstract book and Book of proceedings (electronic form)
Web page:
http://agrosym.ues.rs.ba

INFOTEH Jahorina
Classification: international scientific meeting
Organizer: Faculty of Electrical Engineering
Frequency: once a year
Language: serbian and english
Publication: Book of proceedings (electronic form)
Web page:
https://infoteh.etf.ues.rs.ba

Novi horizonti saobraćaja i komunkacija
Classification: international scientific meeting
Organizer: Faculty of Transport and Traffic Engineering
Frequency: every other year
Language: serbian and english
Publication: Book of proceedings (electronic form)
Web page:
http://novihorizonti.sf.ues.rs.ba/bs/

Engineering, Environment and Materials in Processing Industry
Classification: international scientific meeting
Organizer: Faculty of Technology
Frequency: every other year
Language: english
Publication: Book of proceedings (electronic form)
Web page
: https://eem.tfzv.ues.rs.ba

Conference on Mechanical Engineering Technologies and Applications COMET-a

Classification: international scientific meeting
Organizer: Faculty of Mechanical Engineering
Frequency: every other year
Language: english and serbian
Publication: Book of proceedings (electronic form)
Web page:
http://cometa.ues.rs.ba/


Jahorinski poslovni forum
Classification: scientific conference with international participation
Organizer: Faculty of Economics Pale
Frequency: once a year
Language: serbian and english
Publication: Abstract book (printed form) and Book of proceedings (electronic form)
Web page:
http://jbf.ekofis.ues.rs.ba
Scientific meetings of the second category

EKONBIZ
Classification: scientific meetings of republican significance
Organizer: Faculty of Business and Economics Bijeljina
Frequency: once a year
Language: serbian
Publication: Book of proceedings (electronic form)
Web page
: http://www.ekonbiz.ues.rs.ba/ojs/index.html

Matematička konferencija Republike Srpske
Classification: scientific conference with international participation
Organizer: Faculty of Production and Management Trebinje
Frequency: once a year
Language: serbian
Publication: Book of proceedings and Abstract book (printed and electronic form)
Web page:
http://www.mk.rs.ba

Naučno-tehnološke i društvene promjene i njihov uticaj na sistem obrazovanja i vaspitanja
Classification: scientific meetings of republican significance
Organizer: Faculty of Education Bijeljina
Frequency: nce a year
Language: serbian
Publication: Book of proceedings and Abstract book Faculty of Education Bijeljina
Web page
:  http://conference.pfb.ues.rs.ba

Nauka i stvarnost
Classification: scientific meetings of republican significance
Organizer: Faculty of Philosophy Pale
Frequency: once a year
Language: serbian
Publication: Abstract book and Book of proceedings (electronic form)
Web page
: http://www.ff.ues.rs.ba/naucni-skup-nauka-i-stvarnost/

Savremeno i tradicionalno u muzičkom stvaralaštvu
Classification: scientific conference with international participation
Organizer: Academy of Music at the University of East Sarajevo
Frequency: once a year
Language: srpski, jezici koji su zvanični u državama koje su činile nekadašnju Jugoslaviju, ruski, engleski
Publication: Knjiga sažetaka i Zbornik radova
Savremeno i tradicionalno u muzičkom stvaralaštvu
Web page: http://www.mak.ues.rs.ba/naucni-skup
Web page: http://www.mak.ues.rs.ba/dani-vojina-komadine
Scientific meetings of the third category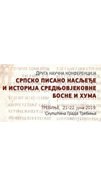 Srpsko pisano naljeđe i istorija srednjovjekovne Bosne i Huma
Classification: scientific meetings of republican significance
Organizeri: Faculty of Philology Banja Luka
Faculty of Philosophy Pale, Serbian Language and Literature Teachers Association, Historians Association "Dr Milorad Ekmečić"
Frequency: every other year
Language: serbian
Publication: Book of proceedings
Web page:
Overview of scientific / professional / artistic meetings by faculties and academies (2017-)
Faculty of Economics Brčko
Aktuelni problemi visokog obrazovanja, nauke i privrede Bosne i Hercegovine, te mogućnosti njihovog prevazilaženja
Frequency: once a year
Language: serbian and english
Publication: Book of proceedings (electronic form)
Web page:
http://konferencija.efb.ues.rs.ba
Faculty of Economics Pale
Jahorinski poslovni forum
Categorization: scientific meeting of the second category
Classification:
scientific conference with international participation
Frequency: once a year
Language: serbian and english
Publication: Abstract book (printed form) and Book of proceedings (electronic form)
Web page:
http://jbf.ekofis.ues.rs.ba
Faculty of Electrical Engineering east Sarajevo
INFOTEH
Categorization
: scientific meeting of the first category
Classification
: international scientific meeting
Frequency: once a year
Language: serbian and english
Publication: Book of proceedings (electronic form)
Web page: https://infoteh.etf.ues.rs.ba
Faculty of Business and Economics Bijeljina
EKONBIZ
Categorization
: scientific meeting of the second category
Classification
: scientific meetings of republican significance
Frequency: once a year
Language: serbian
Publication: Book of proceedings (electronic form)
Web page: http://www.ekonbiz.ues.rs.ba/ojs/index.html
Faculty of Production and Management Trebinje
Matematička konferencija Republike Srpske
Categorization
: scientific meeting of the second category
Classification
: scientific conference with international participation
Frequency: once a year
Language: serbian
Publication: Book of proceedings and Abstract book (printed and electronic form)
Web page: http://www.mk.rs.ba/
Savremeni matematički problemi- Konferencija posvećena profesoru dr Milenku Pikuli
Date of the event: 12-13.10.2018. year
Language: serbian
Publication: Abstract book (printed and electronic form)
Web page: http://www.mk.rs.ba
Međunarodna naučna konferencija IRMES 2017
Date of the event: 07-09.09.2017. year
Language: english
Publication: Abstract book and Book of proceedings (printed and electronic form)
Web page: http://www.irmes2017.ac.me
Faculty of Philosophy Pale
Nauka i stvarnost
Categorization
: scientific meeting of the second category
Classification
: scientific meetings of republican significance
Frequency: once a year
Language: serbian
Publication: Abstract book and Book of proceedings (electronic form)
Web page: http://ff.ues.rs.ba/index.php/n-ucni-s-up-vi/n-ucni-s-up-2016
Srpsko pisano naljeđe i istorija srednjovjekovne Bosne i Huma
Categorization: scientific meeting of the third category
Classification: scientific meetings of republican significance
Frequency: every other year
Language: serbian
Publication: Book of proceedings
Web page:
Nacionalni identitet i bolonjska koncepcija univerziteta
Date of the event: 19.04.2019. year
Language: serbian
Publication: Book of proceedings (printed and electronic form)
Web page: http://ff.ues.rs.ba/index.php/n-ucni-s-up-vi/i-sa-v-u-nf-f-nci
Ideja Filozofskog fakulteta i savremeni Univerzitet
Date of the event: 17.12.2017. year
Language: serbian
Publication: Book of proceedings (printed and electronic form)
Web page: http://ff.ues.rs.ba/index.php/n-ucni-s-up-vi/i-sa-v-u-nf-f-nci
Faculty of Mechanical Engineering East Sarajevo
Conference on Mechanical Engineering Technologies and Applications COMET-a
Categorization
: scientific meeting of the first category
Classification
: international scientific meeting
Frequency: every other year
Language: english i serbian
Publication: Book of proceedings (electronic form)
Web page: http://cometa.ues.rs.ba/
Festival kvaliteta 2017, QFest
Frequency: once a year (various organizer)
Language: serbian and english
Publication: Book of proceedings (electronic form)
Web page: http://qfest.ues.rs.ba/index.php#
Faculty of Medicine Foča
Međunarodni kongres doktora stomatologije (do 2017. Međunarodni simpozijum doktora stomatologije)
Accreditation: international congress
Frequency: yearly
Language: serbian and english
Publication: Book of proceedings (electronic form)
Web page: http://www.mef.ues.rs.ba/nauka/naucni-skupovi/medjunarodni-simpozijum-doktora-stomatologije-rs/?script=lat
Simpozijum hirurga Srbije i Republike Srpske sa međunarodnim učešćem
Accreditation: international symposium
Frequency: yearly
Language: serbian and english
Publication: Program
Web page:
Patronažna služba u promociji razvoja u ranom djetinjstvu, prevenciji i ranom otkrivanju poremećaja zdravlja kod djece
Date of the event: 18.10.2018. year
Language: serbian and english
Publication: Program
Web page: http://www.mef.ues.rs.ba/odrzan-skup-patronazna-sluzba-u-promociji-razvoja-u-ranom-djetinjstvu-prevenciji-i-ranom-otkrivanju-poremecaja-zdravlja-kod-djece/?script=lat
Academy of Music East Sarajevo
Internacionalni festival AKORDEON ART plus (do 2019. year Internacionalni festival harmonike AKORDEON ART)
Frequency: once a year
Language: serbian and english
Publication: Festival booklet
Web page: http://akordeonartplus.mak.ues.rs.ba/
Savremeno i tradicionalno u muzičkom stvaralaštvu- naučni skup
Frequency: once a year
Language: serbian
Publication: Book of proceedings (printed and electronic form)
Web page: http://www.mak.ues.rs.ba/
Dani Vojina Komadine
Frequency: once a year
Language: serbian
Publication: Program
Web page: http://www.mak.ues.rs.ba/
Seminar iz solfeđa
Frequency: every other year
Language: serbian
Publication: Program
Web page: http://www.mak.ues.rs.ba/
Seminar i majstorska radionica iz klavira
Frequency: once a year
Language: serbian
Publication: Program
Web page: http://www.mak.ues.rs.ba/
Seminar i majstorska radionica iz violine i viole
Frequency: every second / third year
Language: serbian
Publication: Program
Web page: http://www.mak.ues.rs.ba/
Seminar i majstorska radionica iz kamerne muzike
Frequency: every second / third year
Language: serbian
Publication: Program
Web page: http://www.mak.ues.rs.ba/
Tematska predavanja u oblasti muzičke teorije
Date of the event: 22-23.03.2019. year
Language: serbian
Publication: Program
Web page: http://www.mak.ues.rs.ba/
Večeri ruske muzike
Date of the event: 28.04.2018. year
Language: serbian and russian
Publication: Program
Web page: http://www.mak.ues.rs.ba/
Večeri italijanske muzike
Date of the event: 19-20.04.2018. year
Language: serbian and italian
Publication: Program
Web page: http://www.mak.ues.rs.ba/
Masterklas profesora Vladimira Murze
Date of the event: 05.06.2017. year
Language: serbian and russian
Publication: Program
Web page: http://www.mak.ues.rs.ba/
Seminar profesora Roberta Vernera
Date of the event: 18.05.2017. year
Language: english
Publication: Program
Web page: http://www.mak.ues.rs.ba/
Faculty of Education Bijeljina
Naučno-tehnološke i društvene promjene i njihov uticaj na sistem obrazovanja i vaspitanja
Categorization
: scientific meeting of the second category
Classification
: scientific meetings of republican significance
Frequency: once a year
Language: serbian
Publication: Book of proceedings (printed and electronic form)
Web page:
http://conference.pfb.ues.rs.ba/
Faculty of Agriculture East Sarajevo
AGROSYM
Categorization: scientific meeting of the first category
Classification
: international scientific meeting od posebnog značaja
Frequency: once a year
Language: english
Publication: Abstract book and Book of proceedings (electronic form)
Web page: http://agrosym.ues.rs.ba/index.php/en/
Faculty of Law Pale
Naučni skup povodom Dana Pravnog fakulteta
Categorization: scientific meeting of the first category
Classification: scientific conference with international participation
Frequency: once a year
Language: serbian and english
Publication: Book of proceedings (printed and electronic form)
Web page: https://www.pravni.ues.rs.ba/izdavastvo/zbornici-radova-sa-naucnih-skupova

Faculty of Transport and Traffic Engineering Doboj
NOVI HORIZONTI
Categorization
: scientific meeting of the first category
Classification
: international scientific meeting
Frequency: every other year
Language: serbian and english
Publication: Book of proceedings (electronic form)
Web page: http://novihorizonti.sf.ues.rs.ba/bs/
Faculty of Technology Zvornik
Engineering, Environment and Materials in Processing Industry
Categorization
: scientific meeting of the first category
Classification
: international scientific meeting
Frequency: every other year
Language: english
Publication: Book of proceedings (electronic form)
Web page: https://eem.tfzv.ues.rs.ba/
…