Sign a modified flower consists of eight outdoor books – symbols of educational activities, which also represent the eight municipalities of the Republic of Serbian, which are located in the University of East Sarajevo
University sign
It consists of a pictorial form part of the octagon, which is located eight books and an open letter abbreviations of the University, registered the year beginning with the educational activities of the Serbs in our region – opening the Sarajevo Seminary.
Sign a modified flower consists of eight outdoor books – symbols of educational activities, which also represent the eight municipalities of the Republic of Serbian, which are located in the University of East Sarajevo.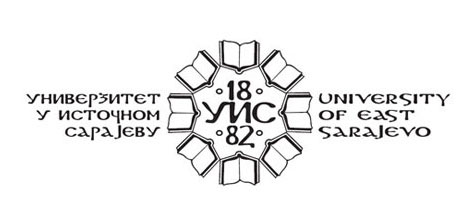 University Logo
It consists of text characters and the University of East Sarajevo, in the full version of the Cyrillic and Latin in English. Written DS Coptic, used for the logo, a copyright offense / letter of the Russian designer Dubina Nikolai. The official documents are used three types of logos, depending on use. The book presents the graphic standards and variations logo on special occasions: diplomas, plaques, posters and other design solutions. Depending on usage it is possible to use Cyrillic or Latin version of the logo, which is precisely defined book graphic visual identity standards of the University of East Sarajevo. Mark is in principle always used, where possible, with text and / or without text, while the text only in exceptional cases can be used without infringement.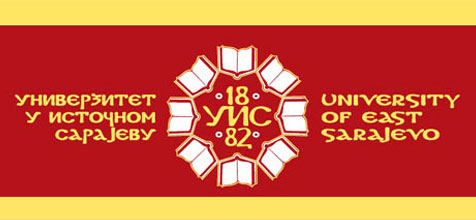 University Colors
dark red taken from PANTONE 1807C PANTONE scale markings or CMYK: 0% Ciano, Magenta 100% Yellow 96% Black 28%
yellow taken from the scale markings PANTONE 114C PANTONE or CMYK: 0% Ciano, Magenta 8%, Yellow 73%, Black 0%
If the logo uses the color must be set to apply color to mark and logo are painted on the surface. For wildcard in the press and the connection can use colors of gold, and gold for luxury publications.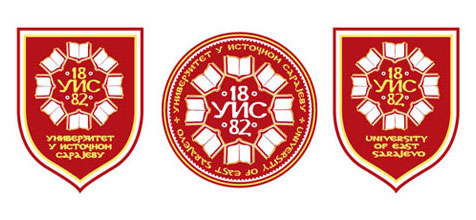 University Emblem
Variations in the round emblem on the shield are used, depending on the needs, equally. Variety on the shield can be used with text in English.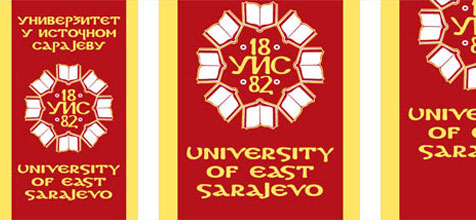 University Flag
The flag is dark red in color with two yellow or in connection with the golden bar; in length and contains two wide (1:2). In the middle of a color sign with the University logo above the Cyrillic and Latin inscription in English below. Student organizations at the University of events using the flag as their flag.
Sign and logo of the University of East Sarajevo were designed by the students of the Academy of Fine Arts in Trebinje headed by prof. Mirko Toljic.